Old Navy
Old Navy Is Not Old News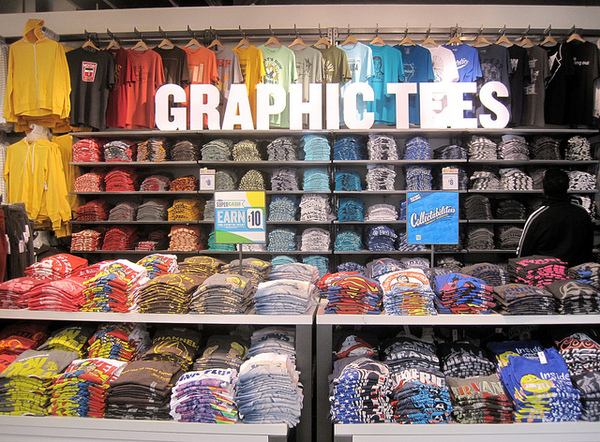 You may have heard rumors that clothing retailer Old Navy is in trouble. There are always mutterings online about this company or that one going out of business, but this is hype you should definitely not believe. Not only is the rumor unfounded, it could not be further from the truth. Old Navy is quite alive, well, and thriving.
As a matter of fact, there could be no better market climate than the one we're currently in to guarantee the stability of the Old Navy brand. The state of the economy and evolving Depression-era consumer behaviors have buoyed the company's bottom line and ensured its continuing success. Once thought of as the lesser-quality, throwaway runt of the family, Old Navy is now carrying its tonier older siblings and parent corporation on its back.

Is Old Navy owned by GAP? Old Navy falls under the overarching umbrella of Gap, Inc. In addition, the parent corporation owns four other well-known clothing brands, namely: Banana Republic, Gap, Piperlime, and Athleta. Of the five sister retailers, Old Navy has always been considered -- by consumers and stockholders alike -- as the down-market brand, offering inexpensive, easily replaceable, seasonal pieces that were a few rungs below the Gap in quality and fit. Old Navy tiers with Forever 21 in the marketplace and the zeitgeist. Meanwhile, the far more expensive Banana Republic was touted and positioned as the upscale brand -- designed for and marketed to young professionals alongside competitors like J. Crew, Club Monaco, and Anthropologie.
The heavy-hitter in this scenario would seem to be Banana Republic. But as reports from Gap, Inc. in the first quarter of 2013 attested, Old Navy is now far out performing Banana Republic. Not only that, the retailer is the only reason that the parent corporation could report positive earnings and even growth since the previous fiscal quarter.
Still Popular with Today's Consumers One reason for Banana Republic's underperformance is that the star model for clothing retail across the globe is now H&M. The consumer mindset has shifted as unemployment has risen and the amount of disposable income per household has plummeted. The vast majority of today's consumers are seeking value over flashy names. And yet, they still want apparel that is on trend and of the moment. Banana Republic cannot compete with the H&M model -- though they will no doubt try -- because there is nothing "here today, gone tomorrow" about the styles and trends Banana Republic stocks and trades in. Old Navy, on the other hand, is already well-poised in that arena.
Old Navy has been branded for years on the basis of its affordability and the rotation of its seasonal apparel. In addition, it's reputation for wardrobe basics -- denim, cotton t-shirts, khaki pants -- far surpasses H&M's. Capitalizing on that aspect of its brand, Old Navy also thinks beyond young professionals and teenaged consumers, strongly marketing its merchandise to families and providing bulk pricing for seasonal staples. This retail model is a valuable asset and contributor to the brand's success.
Is Old Navy Eco friendly? While there are more eco-friendly clothing brands than Old Navy, the company has undertaken several popular green initiatives that have focused on consumer choice and participation as well as community benefits. In a partnership with Terracycle, consumers collected old pairs of flip-flops from friends and neighbors (25 pairs at minimum) and mailed them in to collection centers in exchange for Old Navy rewards and coupons. Terracycle then recycled the flip-flops into base plastics for a variety of end purposes: trashcans, picnic tables, and so on. The main thrust of the effort was to keep the ubiquitous shoes from ending up in rapidly heaping landfills.
Another similar initiative called for consumers to bring their old flip-flops in to Old Navy stores to be recycled for a very specific purpose. The shoes were recycled and the materials then used to build several community playgrounds across the country -- further reinforcing the brand's community- and neighbor-focused image.
But, the fact is a greater percentage of consumers will make the environmentally-friendly choice when it takes no real effort on their parts. Old Navy realizes this and, since 2011, has offered patrons the option of having their receipts emailed to them instead of printed, thereby saving trees. The added bonus is that emailed receipts make returning merchandise more convenient for consumers.
Is Old Navy going out of business or is it in for the Long Haul The average Old Navy consumers are either young persons with very little disposable income or families balancing tight budgets against competing necessities. In an economy that is in the midst of slow recovery, Old Navy's market encompasses the vast majority of Americans. As long as Old Navy is supplying those consumers' demands, the company is in no danger of folding any time soon.
Be the first to comment