Banana Republic
Banana Republic's History, Clientele, and Rewards Programs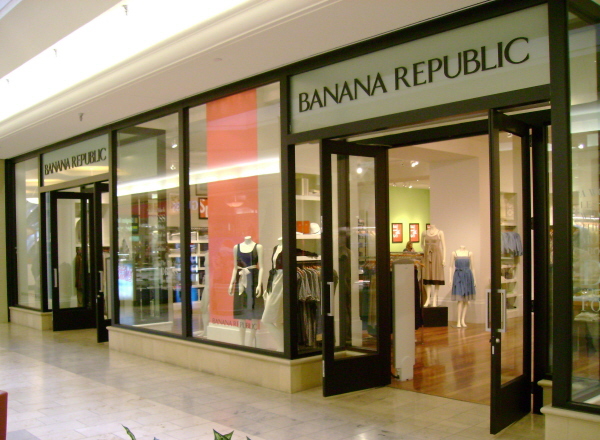 Banana Republic is a mid-priced clothing store with an upscale image. It is owned by The Gap. Gap Inc. also owns Old Navy, and, of course, The Gap itself. Most of Banana Republic's roughly 600 stores are located within the United States, but they are also present in many other countries worldwide.
Is Banana Republic for teens? Banana Republic has a wide range of clientele. They create clothes for both adults and teens. It may not be one of the first stores that comes to mind when thinking about popular stores for teens, but it is always possible that teenagers of a certain style will find classic pieces there to complement their wardrobe.
There isn't a specific product line at Banana Republic marketed exclusively towards teens. Instead, they are welcome to choose from the selections available in their women's and men's departments. Banana Republic outfits do sometimes fit the fashion needs of both markets, though.
Is Banana Republic marketed towards gays? For the most part, Banana Republic does not specifically market towards gay people. That is not to say that they haven't marketed towards gay people at all, however. They have certainly been known to place ads in periodicals written and distributed exclusively within the gay, lesbian, bisexual and transgendered community. The 1996 psychology book "Gays, Lesbians, and Consumer Behavior: Theory, Practice, and Research Issues in Marketing" noted that Banana Republic ran ads in magazines such as Out, which is marketed primarily towards gay men.
The contributors to the book were mostly experts in the field of social psychology. They felt that the style of the ads in Out was indicative of an intention to market specifically towards homosexual people. In other words, they didn't just run the same kinds of advertisements in a wide variety of magazines. It seemed that they created ads to appeal particularly towards the gay market. Some psychologists working in the field at that time expressed the opinion that the gay men-specific marketing techniques extended beyond the publications they chose to run them in.
Of course, even at the time, they were not the only ones marketing towards the gay, lesbian, bisexual, and transgendered demographic. Other companies using similar methods as Banana Republic at the time include Absolut, Sony, Apple, American Express, Benetton, Calvin Klein, Perry Ellis, and Levi Strauss. These brands have been listed as doing such by the previously mentioned psychology book, edited by Daniel L. Wardlow. Banana Republic and Benetton in particular were cited as changing their magazine ads to fit the gay demographic. The evidence used to support this claim was that the ads in magazines marketed specifically towards gay individuals were different than those published in magazines not geared towards one sexual preference in particular. These sexual preference-neutral magazines included popular names such as Interview and Vanity Fair.
What is the Banana Republic luxe card? The Banana Republic Luxe card can be given to anyone who already holds a Banana Republic credit card and has spent at least $800 at a Gap Inc. store during one calendar year. Those wishing to gain Luxe status on their Banana Republic credit card can spend the required $800 at any Banana Republic, Gap, Old Navy, Piperlime, or Athleta store.
Once you have reached this benchmark, you will continue to receive all of the rewards that come with a Banana Republic credit card, plus a lot of special perks. This includes free shipping on all online purchases. You can also participate in the Choose Your Own Sale Day offer, which will entitle you to 15% off your order on the day of your choosing. You will also gain access to special events planned by Banana Republic exclusively for their Luxe credit card holders. These include Triple Points Days, in which the benefits of your Luxe card will increase thrice over. If you dislike the long hold times that other credit card companies have, you may be happy to hear that Luxe card members have access to a special priority phone line.
One special trait that Gap Inc. tries to keep alive in their Banana Republic brand is that of luxury and high-end product lines. When thinking about this philosophy, and the down to the details elegance that it implies, a perfectly tailored ensemble may pop into your mind. One benefit of a Banana Republic Luxe credit card is that all basic alterations on Banana Republic purchases are free. This means not having to deal with tailor purchases.
Of course, to gain Luxe status, you must first hold a Banana Republic credit card. There are two choices to choose from: BananaCard, or Banana Republic Visa Card.
Banana Republic offers a wide range of clothing and accessory lines fitted towards both women and men. Their long history of offering upscale pieces makes them a good fit for those with discerning tastes.
Be the first to comment