Ashley Benson's Fashion Sense
Her style in Pretty Little Liars vs Her style in real life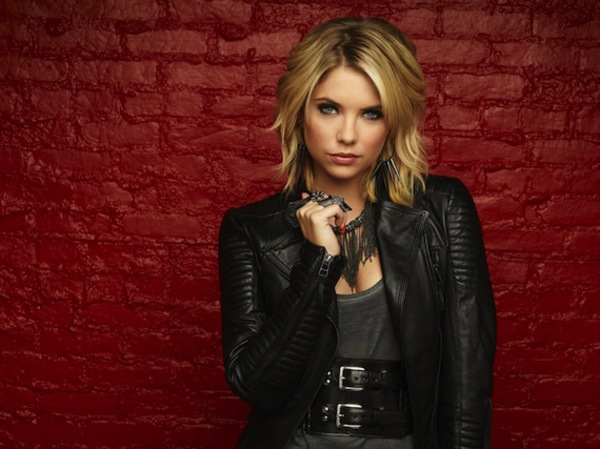 Ashley Benson is an up and coming actress from the popular ABC television series pretty little liars. Ashley Benson plays Anna Marin a popular 'it girl' in school, who deals with image issues and suffers from bulimia. The show has become very popular with fans tuning in to find out the latest gossip and twists of this dramatically entertaining drama. The show was the most tweeted about premiere in television history and has the fans dying to find out the shows revelations. The show is shrouded in secrets and incredible fashion sense as the four main stars of the series all look incredible from scene to scene. However, Ashley's fashion sense differs from her on screen persona's dressed up look.
Her style in pretty little liars
The character of Hanna has been through many dramatic highs and lows. Ashley Benson has had to portray a character that has truly suffered through an ordeal. Despite this, her style always remains something to be admired and she always gives off a classy, high end look that leaves us all feeling envious.
Ashley has stated that she feels 'uncomfortable' wearing Hanna's wardrobe due to the fact that her outfits are dominated by a pair of heels. The role requires her to be dressed up in the latest fashion to reflect that of a popular teenager. Hanna's style on the show reflects that of a sophisticated teenager, her outfits are usually worn with a blazer to show this. Ashley's character will usually wear a girly piece such as a long dress or skirt which is given an edge by adding a blazer or a fitted minis. The character of Hanna is known for not wearing anything that is not designer, with a very high end inspired wardrobe.
In order to achieve her character's lusted after style the stylists mix textured and ruffled shirts into her look. Add a sleek blazer, mini skirt or a pencil skirt and tuck in your shirt and you will achieve Hanna's polished, smart yet sexy look.
When it comes to accessories Hanna does not go over the top with statement pieces. A simple long, expensive looking necklace or a belt to wrap around her many flowing dresses completes her attire. Cut out and strappy heels look great with all Hanna inspired pieces, her look is known for a pair of stunning heels yet these heels should appear classy with an edgy twist.
To summarize the Ashley Benson's character Hanna's style, she opts to dress to impress with an edgy, intense, complex twist, reflecting the style of the show.
Her hair in pretty little liars
Earlier in the season Hanna's hair is usually styled down, long and wavy which makes her blonde hair look stunning. However, recently the actress went for a shorter, more versatile look. Her hair now just passes her shoulders and stylists still give the shorter look Californian beach curls. This look can be gained at home from a pair of curling irons and some salt water spray.
Her style in real life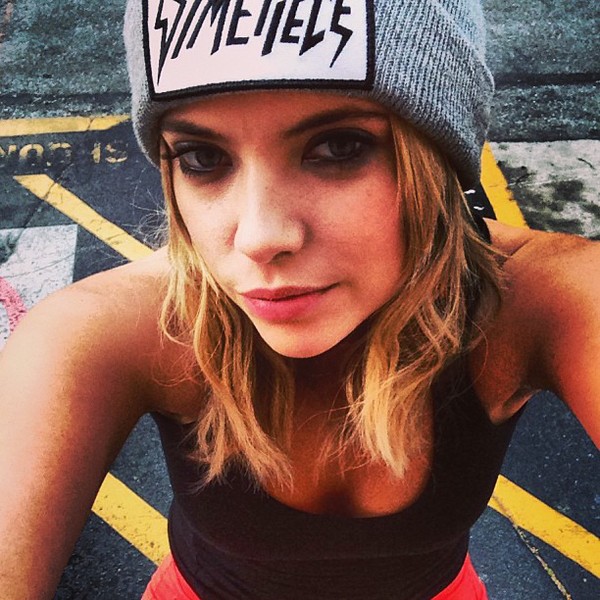 Ashley's style in real life reflects that of a more laid back, casual appearance. She has quoted herself as not a 'tomboy', but she chooses to dress different in appearance from the glamorous Hanna. Ashley's personal wardrobe tends to be dominated by the color black, giving her more of an edgy look. As she does not agree with the character's overuse of heels she tends to wear a casual pair of converse, with a pair of jeans and a fitting top.
The star like to dress up and look glamorous and has confessed to taking some of Hanna's fabulous dresses home with her to achieve a dressed up look.
Ashley Benson's fashion sense reflects that of a gothic, grungy, rock chick look. Her style perfectly fits in with the popular festival look that's in season. However, the star often mixes up her look with feminine tops and blouses and other tomboyish pieces. The star has been spotted on numerous occasions sporting an oversize, baggy t-shirt with a killer pair of skinny jeans or shorts. This star is constantly seen in a gorgeous leather jacket to reflect her glamour grunge look.
When it comes to accessories, this star can be seen in minimal gold jewellery such as a simple, thin gold necklace or a pair of designer glasses. Ashley also has a favourite accessory she has been spotted in, her 'dope' baseball cap. This accessory screams edginess and fits in well with her rock chic look. The star's make up also appears to reflect a natural look, she chooses to wear black eye make up with simple pink lip stick to add a touch of feminine glamour.
When it comes to red carpet events the star chooses to dress up with long, floor length dresses that exude glamour. The star teams this with heavy, dramatic eye make up and a gorgeous up do to reflect a dressed up look far away from her usual casual appearance.
Her hair style in real life
Despite Ashley choosing to dress different from the character she portrays they do have similarities in their hair style. Ashley also chooses to create light curls in her hair to create a stunning look adding more glamour to her grungy appearance, take a look at her Instagram page here.
How to achieve Ashley's casual look
Ashley's casual day time look can be easily achieve. Simple curl your hair using a pair of thin barrelled curling irons and some salt water spray. Find a cute, baggy band t-shirt and team this with a pair of rock chick leather look leggings or a pair of dark jeans. Wear this with a leather jacket and a pair of black chic boots or a pair of converse.
How to achieve Hanna's look Purchase a lovely flowing feminine dress and wear this with a smart black blazer. For accessories opt for a large soft pink handbag and a belt to pull in your waist. Don't forget an all important pair of glamorous heels to add height and sophistication to your Hanna inspired look.
Be the first to comment