Is Street Style Becoming Commercial?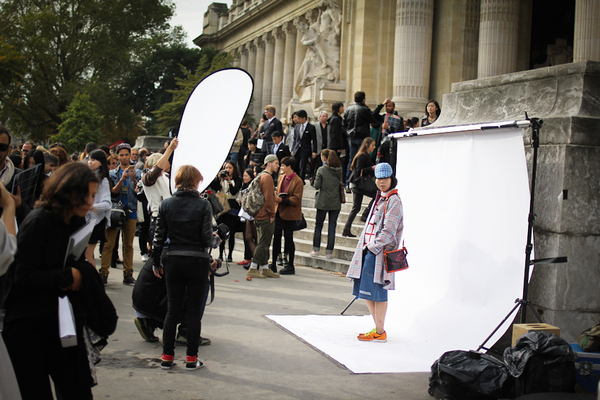 There was a time when everyday people turned to fashion magazines or the ad campaigns and editorial spreads of magazines to define their style of clothing. Today with the internet and bloggers who post pictures of real people with real style on some of the hippest streets in the world, be it New York, London or Paris, define street style. The people who follow fashion have started clicking on to these blogs for their inspiration and no more rely on only the runway shows and ad campaigns created by the closed clique of the fashion world.
"A mini studio is erected outside the Chanel Show in Paris Fashion Week, complete with a reflector and a white background, where all the photographers can get the exact same shot,"

"Scott Schuman ask their subjects to pose in a spot that holds the most interest or the best light, after asking for their consent. He then asks them to assume a "normal street function" such as crossing the road, smoking a cigarette or just typically gaze directly into the lens."

Read More: Is street style losing it's authenticity?
With the bloggers on the internet posting pictures, the influential images in fashion are now created not by the designers, editors or by famous photographers but by unknown people who took candid pictures with their digital cameras of the editors who attended runway shows at places like New York, Milan and Paris. People who follow fashion could now get to see these pictures and liked the fact that they were candid and taken by ordinary people showing things as they really are.
When it comes to street style, it has always been something that had a global appeal. Especially in the computer age when you can sit at home and take a look at how someone across the world interprets Americana and the clothing style that goes with it.
You could even take some pointers from these pictures of real people across the globe and encompass the tips into your own street style. It does not matter any more that everyone has an access to the famous designers and their latest designs.
What matters is that today all across the globe ordinary people are interpreting fashion and introducing their own style to what is in. In the beginning when street style began to be recognized as a style of fashion, photographers took pictures of everyday people in their everyday clothes who wore their clothes in a unique way which expressed their personality. Today things are a bit different, people are dressing themselves up just for the cameras. It is like reality TV and people are more self aware of the photographers capturing images of everyday people.
Today it is becoming into something that is no more an expression of yourself but more the case of ' the more outrageous the clothes' the more the likely hood of being photographed and finding yourself on the internet. This has not only created some unfortunate styles but also made some of these blogs into something like runway shows. This has changed the concept of street style from someone saying ' Who me?' to someone saying 'Look at me' causing the fashion world to move on to something new.
Be the first to comment