What is a Fashionista?
A very fashionable person, especially one who works in the fashion industry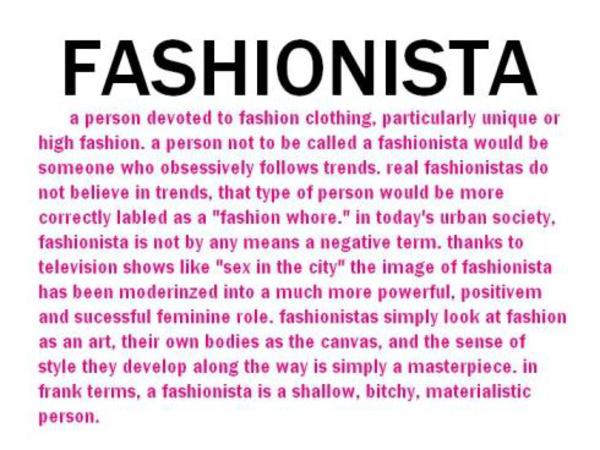 If you're following the latest fashion trends and are aware of what styles are in; you have the ability to pull off great looks in just about every scenario, you just might be a fashionista. Some people seems to be born with the sense of what it takes to have this insight while others may not become interested in fashion until later in life. For those it takes a lot of work and practice to become a fashionista.
What does it mean to be a fashionista?
This popular word seemingly inseparable on fashion blogs across the internet has come a long way. The word fashionista is a noun that signifies a fashion follower, promoter or designer. The definition is sometimes used loosely with the definition meaning anyone who is involved in the fashion industry.
According to various sources the first use of the word is believed to be from a book called "Thing of Beauty" by Stephen Fried. In the book he used the word to describe fashion stylists, photographers, models, editors and other professionals in the fashion industry. The Oxford Dictionary also credits the word as being created in the early 90s.
How do you become a fashionista?
Being a fashionista is more than just what you wear, it's a lifestyle of appearance & beauty. Starting with proper skin care, facials and keeping your hair in a style that's up to date and easy to maintain. You should always play with your hair and try to find different looks. Over time you will develop the instinct of knowing exactly how to cover up bad hair days.
Keeping your eye on how experienced fashionistas are dressing by attending fashion shows local to you or if you have the means you should attend fashion shows in Paris, New York and Milan. The clothing displayed on the catwalk will definitely inspire. Just being surrounded by so many other passionate followers of fashion you stand to learn a lot in a very short time, some might even be overwhelmed.
Follow these steps and you will be a fashionista in no time!
Is it a negative or positive word?
It's not uncommon for people to twist a positive and uplifting word and turn it into something that's derogatory. For example, the word fashionista is actually used to describe someone who is closely linked to or involved in the industry of fashion. This being said, as of lately people have twisted it into a term that's used to put people down or make them seem as though they're obsessed with fashion rather than just submerged in it. Thankfully, if you approach a fashionista and label them as such, they'll take it as a badge of honor rather than something that puts them down.
When did the word come to be?
The word itself actually came about in the early 90's and makes use of the suffix "-ista", which is actually Spanish. Typically you'll find that the "-ista" suffix is borrowed and implemented in other slang terms, but many people aren't actually aware that it is Spanish in origination.
Through the eyes of a customer
Fashionistas are people who will always be clean cut and dressed well. They can typically pick out social and cultural trends without too much effort and they regularly attend events and keep up with the newest releases in various fashion magazines. Because of this, many people mistake them as being shallow or uncaring, but in all reality they do fight for things they believe in like getting rid of child labor in regards to making clothing or shoes. Just as with anything in life, don't judge a book by it's cover.
The fashionista consumer
Keep in mind, that fashionista can also be used to describe those regular customers who are always on top of what's new and even push the demand for new items which can shape what's actually kept in stock by stores. Not only this, but they have such an impact on those around them that when they buy and try something new, those around them copy their example and purchase the same goods, in turn making sales rise.
Current day popularity
As fashionistas became more well known, there have been other spinoffs that have developed. For instance, a fatshionista is someone who is overweight and keep up with trends in order to promote the plus-size fashion industry. The idea is to build confidence in those who are overweight and feel embarrassed when they try to dress up nicely. Another spin-off is actually called a ressionista. As you may have guessed, this refers to those who try to dress fashionably, but on a strict budget. This often forces them to be creative in what they choose and how they wear clothing. This is becoming much more popular as the economy continues to decline in the United States.
Be the first to comment