What is a Fashion Lookbook?
Designers, fashionistas & design bloggers can look into creating their own Fashion Lookbook to complement their fashion marketing campaign.
Do you want to know what styles are in and trendy? Do you live in a small town but, want to dress like an uptown girl but, your just not sure what uptown girls are wearing these days? Do you want to know what styles by what designers are currently hot? Then you need to browse the pages of a fashion lookbook.
What is a Fashion Look Book?
Originally a fashion lookbook was used by a designer preparing for a run way show or for a photo shoot. This book put a fashion look all together to help make sure the models had the right shoes with the right outfit and so on. As time past these books were a way for designers to show their collection, and today there are a way for everyone to know what looks are trendy for each season.
How A Fashion Look Book Can Help You
Sometimes, you find a skirt you just love and aren't sure what to pair it with to get the most stylish look possible. A Fashion lookbook will match that skirt with a shirt, jewelry and shoes for both casual and more formal occasion allowing you to get a picture of what a completed look for your skirt will be.
Some books not only cover fashionable clothing but, perfumes, sunglasses and other accessories to help you ensure you are in style. Remember however, that the total look you are seeing is the fashion designers or stores vision for this outfit. While it certainly provides a worthwhile guide in helping you choose outfits so you aren't left with a shirt here and a dress there that doesn't match anything else in your wardrobe you also need to develop your own fashion style.
Making Your Own Fashion Look Book Can Help You With Your Own Wardrobe
While it may seem silly at first making your own fashion lookbook can help you when you need to make additions to your wardrobe. It can also be beneficial simply to create a book using the clothing and accessories you have and then shopping to fill in the gaps. That way you know exactly what color and style of shirt or shoes you need to complete your wardrobe without buying this item or that only to discover when you get home it doesn't match a thing.
Keeping your own book on hand with different complete outfits to wear for all different occasions will also make it easy to know what to wear for that presentation at work, that first date, or that anniversary party. Instead of spending countless hours of trying on this or that you can simply turn a page, find the outfit that has the look you want, and you will know what to wear from the outfit itself to your shoes and jewelry. In some cases you might even know what hairstyle works best with a given outfit.
Creating a lookbook with your own styles will take some time, but, think of how many hours it will save in the long run. Packing for a vacation will be a snap, as will attending that dinner in honor of your boss. It could make dressing for all those big and small occasions in life completely stress free.
How to make a lookbook?
Are you ready to share your unique sense of fashion?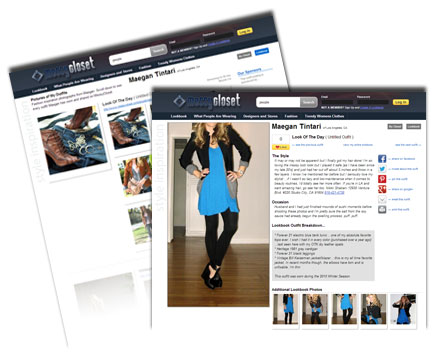 Being a fashion expert isn't a requirement to share your street style. Make your lookbook for fashion for free with MessyCloset. After you create your account you'll be able to upload your looks and browse others. Sign up for MessyCloset
Be the first to comment