Chrissy Metz / Kate Pearson: Confidence & Plus Sized Fashion
About Chrissy Metz
Chrissy Metz's goes by the name Christine Michelle Metz. She is an american actress and singer. She was born on September 29, 1980. She is known for playing Kate Pearson in the NBC drama 'This is Us', for which she has earned Best Supporting actress nominations at the Primetime emmy awards (2017) and Golden Globe awards (2017 and 2018), She is also known for her role in FX's american Horror Story (2016) and Loveless in Los angeles (2007).
Metz was raised in Homestead, Florida. She spent her formative years in Japan, where her father, Mark Metz, was stationed with the United States Navy. The family later moved back to Gainesville, Florida, where she attended elementary, middle, and high school. She grew up with her mother, Denise Hodge, stepfather, two siblings, and two half-siblings.
Chrissy Metz's have in the past suffered depression and lack of self-esteem due to her body image. it is worth noting that Metz's prominence as a TV show icon has caught the attention of a large audience, but so has her size. She for some time had had a negative regard on her body image, which played down on her woefully. She is now on a positive ride and advocating for other women who see their bodies as "not appealing".
What is it that actually motivated Metz? She developed a panic attack which she mistook for heart attack until she visited her doctor, from whence she changed her mind set completely. Metz has opened up about her own struggle with weight loss in her personal life. in each and every interview, she seems so down to earth and grateful for what life has brought her.
She keeps it real, which feels like a breath of fresh air in an industry that does not always do the same. She has found fame and a calling as a role model for body positivity and fashion. She has taken up fashion as a duty and now wears dresses that fit her body shape with absolutely no complex. The days when fashion praised tall, overly-skinny girls are long gone.
Let's take a look at Metz's own weight loss and fashion journey, along with the positivity and gratitude she brings to every day of life.
She had to follow her doctor's regimen strictly, which included having a 2000 calorie diet and having a 20 minutes' walk. This helped her loss 100lbs. Then she landed the recurring part on american Horror Story: Freak Show that would kick-start her career.
She played a character that required her to wear a fat suit. This was also a big moment for Metz.in one of her interviews she said: "it was sobering... i thought, 'What if i become that heavy and can't walk around or get stuck in the doorframe?' i was like, 'i don't want this for me.'" it also led her to "this is us", her role as Kate being a fan-favorite.
The actress told TVLine, "in our 'this is us'contract, it did state that weight lose would be a part of it, to lose the weight, in the trajectory of the character," adding that the request wasn't insulting at all. Rather, it was "a win-win for me.
I just have to be very clear, whether or not i lose weight or stay the same, it's purely a choice of mine for health," she added. "Not because i think that plus size, curvy, voluptuous, big bodies aren't attractive - because i think they're awesome and sexy.
Metz's today prides that if she had loosed weight she wouldnt have been playing this character.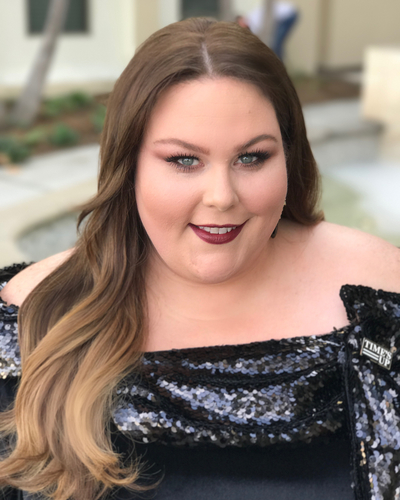 In one of her interviews, she said "You have to use what you have, and i wouldnt have this role if i had already lost weight," a thing her fans should empathize with her for. She acknowledges that having her own physical journey tied to Kate's is a key element of why This is Us is the role of a lifetime. The "This is Us" star, who is inspiring people with her role as Kate Pearson on the hit NBC show, is pushing the boundaries of fashion in hopes of helping other women do the same. She disclosed her fears for fashion, stating that 'many people make you feel uncomfortable about your looks and your outfit', she therefore had to partake in conversations on size exclusivity. She was preliminary adamant to break away from the basic style and conservational dressing that must plus-size celebrities' wear to events. She was particularly worried about how things will photograph when she started on "This is us".
Metz is now fully a stylish lady, and loves bold colors and prints. From bold colors to latex, the actress is finally at a place in her life where she feels comfortable wearing what she wants. "i want to encourage women to enjoy what they're wearing, as opposed to just finding a boring black dress that fits," she confessed.
We need to be specific about how clothing fits different body shapes. i want to show personality, and make something that i want to wear.
She has had a very big challenge with her social media audience and fans. as Metz continues to be a voice for women around the world, she speaks out for herself as well. according to People, after her appearance in an adorable, latex red dress at the MTV Movie & TV awards in May 2017, she received some negative comments on social media about her look.
After seeing the negative posts, she decided to speak up about her choice, leaving it all on the table. She tweeted, "For the record, i wear what i want, when i want. News flash it's MY body.
Metzs is looking at the future with optimism and is taking steps to lose weight, she does make it clear that the stops along her weight loss journey are "not for anybody but herself. ... as she wants to have a fit, healthy body.
Metz's attests that what has kept her on the rails is: "i've had women - average women, older women, teenagers - who say to me, 'Your role and this show has changed my life.' This gives her courage to forge ahead.
Be the first to comment