Princess Kate, Dream Gown or Nightmare?
Kate's wedding gown tribute to another princess bride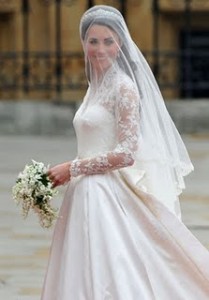 I may catch a lot of flak for this, but I must voice my opinion. Kate Middleton (Prince William's Wife), had her big dream wedding today on April 29, 2011.
Millions of viewers and town members watching this historical moment. Kate shows much poise and grace, and I support their marriage. As I tuned in to watch as people entered in the Buckingham palace. I was more the interested to see Kate's choice of a wedding gown. Hoping it would be the fairytale gown to the fairytale wedding.
Every little girl plan's their dream wedding in hope they would marry there prince charming. Kate found her prince, however the dress was not as charming. Many people and fashion sites believed Kate's dress was beautiful. Realistically the dress had no character to it and looked very old and traditional.
The thing that bothered me most about the dress is as a Modern day princess assuming the throne, Fashion sense play's a huge role. First Lady Michelle Obama, embodies a modern fashion sense of historic First Lady Jackie Kennedy. With all the comparisons between Princess Kate and Princess Diana, you would hope for Kate to embrace a Modern look of Princess Diana's style.
I honor Princess Kate as being the love of Prince William's life. The gown she wore on her Wedding day was an ABSOLUTE nightmare. The lace was outdated for a wedding maybe for a reception it would have been a go. The off White was an excellent idea, many may disagree and a few may agree with my thoughts.
Be the first to comment