Fashion Tips For Tall and Skinny Girls
What to wear if you're skinny: Slim style advice
Having a fashion model figure like the slim and tall women seen on the runway would probably allow you to wear some of the most desired styles as they become available. It's said that "skinny girls are not real women" because skinny body proportions have always been in full demand on the ramps and in fashion world. Even if most women are never satisfied when staring in the mirror it's important to remember that skinny girls are pretty too
Being too self critical when looking in the mirror reviewing your genetically inherited traits can have you thinking you're too short or too tall, maybe you feel overweight or too skinny, the list can go on and on. You might not be able to change your physical appearance but wearing the right clothes can be just the change you're looking for.
When you're tall and skinny it's pretty much an accepted fact that you have the preferred body type for modeling. However if you feel you're lacking the womanly figure you can layer clothing to give optical illusion of fullness. A shrug, denim vest or a jacket or a t shirt can make the look.
Avoid vertical stripes, these patterns are very tricky to style. Wearing horizontal lines and patterns can add curves to your body. Instead of wearing high heels which will make your legs appear thinner than they are you should opt for wearing boots or shoes with low heels. If appear to have a fuller figure is your goal staying away from skinny jeans is a must. Instead wear straight cut fit with a tight flare at the bottom.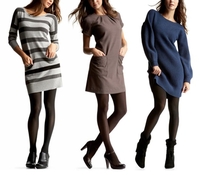 Garments that have a belt at mid-waist will also make you look thinner. Baby-doll style clothes make you appear fuller and optically make you look shorter. Ultra-SLIM girls should try to avoid styles that reveal their boniest areas - from the deep V below the chest, to strapless styles that focus on the shoulders.
What is the best way to hide skinny legs? In the summer maxi-skirts are great for hiding legs and looking stylish at the same time, but again remember to avoid anything too baggy.
Not every dress will suit the thin women. The dresses have to be chosen with great care according to their body shape and structure. Stretchy wrap-dresses need curves. This is one garment that always looks better on "real people" than catwalk models.
Avoid t-shirts with short sleeves, V-necks and flared miniskirts for starters! The success lies in doing all the right things including, clothes, cuts, colors, materials and accessories! Once you follow some small and simple steps you will definitely find how to glam up apart from being skinny! Don't wear the baggy look, even if it's the current style. Baggy clothes almost never make a skinny body look its healthy best.
Don't be afraid to experiment and play with textures, colors and designs to find those pieces of clothes that suit you best and give you confidence.
Read more: http://www.wewomen.com/guide/fashion/f135821-what-to-wear-if-you-re-skinny.html
Be the first to comment