Rent the Runway Review
Love. Wear. Return.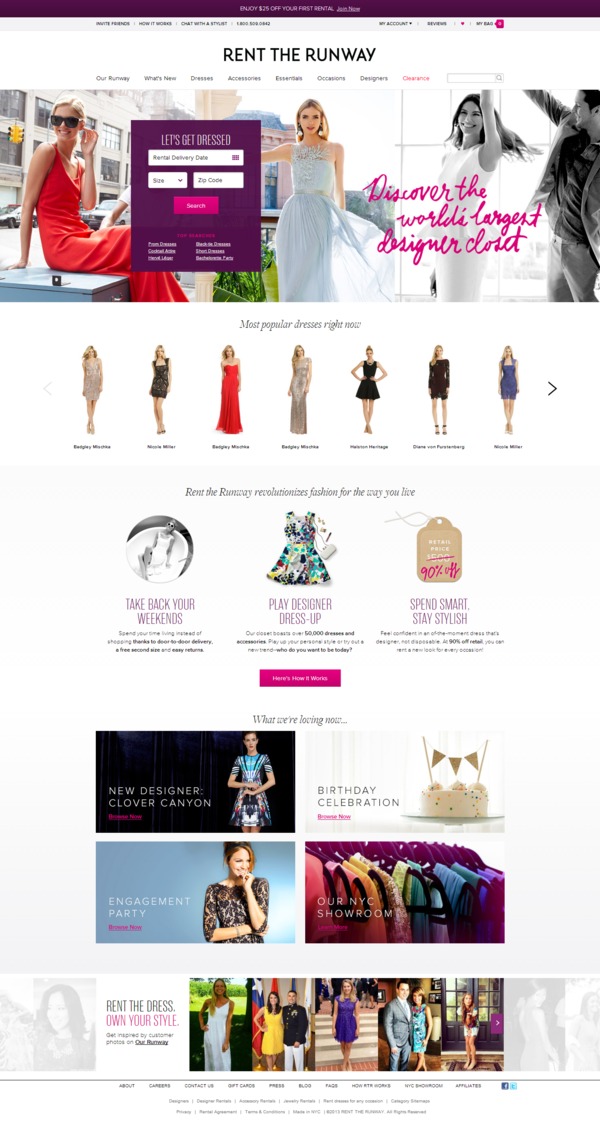 Rent the Runway is a rental service that gives women access to clothes and accessories from over 170 designers while paying just a fraction of the price of buying the items. Signing up is free, and allows you to browse through clothing available for rental or purchase.
Many people love Rent the Runway because they get to wear an expensive designer dress without the pain of paying full price. Since most women only wear a dress to one event, there's no reason for them to want to purchase a gown new. Using Rent the Runway instead of buying dresses for every wedding and event can save both money and closet space.
How does it work? The site will ask you for your zip code and the date of the event you need a dress for. You can rent garments for 4 to 8 days. You may also purchase dresses through Rent the Runway.
When you enter your date and zip code, you'll see the dresses available. You can sort by color, body type, trend or designer. You reserve gowns up to four months in advance. You can choose a backup size with your dress rental for free to ensure you have a gown that fits.
Simply return the gown by 12:00 noon on the last day of your rental via UPS or USPS (you select which method at checkout). Dry cleaning is done by Rent the Runway to make the experience easy and fast for you.
Making Sure it fits Every rental comes with a second size for free to make sure you have a dress that fits great. There may not be the backup size you need, in which event you are encouraged to rent a different style dress as well.
Rent the Runway also has consultants who are trained to help you determine the perfect fit. In the event you only get one dress and it doesn't fit, Rent the Runway will give you merchandise credits that cover the rental cost of the dress. If you got more than one dress and none of them fit, they will issue credits to cover the cost of the rental. Contacting a stylist is the most important step to making sure you get a dress that fits and looks great.
Rent the Runway also features a fantastic customer review section where renters are encouraged to post photos of themselves in their dress, along with what they liked or didn't like about how it fit them. Many women also include their height and weight. This lets interested ladies get a better idea how the dress is going to fit their body type. It's incredibly helpful.
When things go wrong Rent the Runway really cares about their clients. If you have trouble getting the right fit, or something terrible happens and to dress you've reserved, they do everything possible to get you a gorgeous dress in time for your event.
Quality When renting a dress from Rent the Runway, many women are worried about how "used" the dress is going to look. Dresses are high quality to begin with, and also are incredibly well cared for, which keeps them looking like new. No one will guess that you're wearing a rented dress!
Buying Dresses through Rent the Runway About twice a year, Rent the Runway holds clearance sales to make room for new designer gowns. The dresses available through the clearance sale are greatly discounted from their original price. All sales on clearance items are final, unfortunately, but Rent the Runway only sells great-looking dresses. Consult a stylist if you're worried about fit.
Be the first to comment