Party Dresses for Women
All of us love to look good on each and every occasion
The season has changed and yet our social whirlwinds continue. Weddings, showers, birthdays and nights out on the town all deserve a little dress action. Below, for your appraisal, 6 party dresses to reach for when the invitation calls for more than black pants.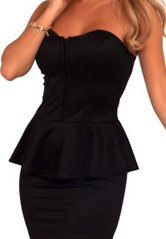 Since we were girls we've been taught the value of the little black dress - I'm sure you've had several over the years. However when I go out, I hate feeling like I'm in the black dress uniform marching along with all my other gal pals, who don't know what to wear. If you can't drop the black dress addiction at least add a twist.
This little number has a sleek vibe making it sexy without being too revealing. The Kimono will create a waist if you want one and hide any excess belly. Get the Strapless Ruffle Evening Party Dress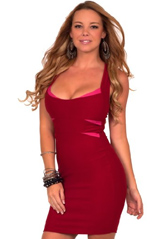 The lady in red is the one who always gets noticed. So if you're a sucker for being center of attention (who me?), keep this dress within arm's reach. The low neckline and juicy color are sure to get you a few double-takes. Tip: to wear a low V, you're going to need a good bra. I like the plunge bra at Victoria's Secret.
Red Clubwear Cocktail Party Dress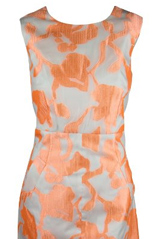 Every woman needs a few DVF's in her life. This little blue wonder is wrinkle resistant, so you can stash it in your suitcase for that out of town wedding and not worry about finding an iron when you get there. The silk jersey is whisper soft, yet sturdy enough for a day (or night!) of dancing and flirting.
Pair it with some chandelier earrings for that hot date or a cardigan to meet his parents. The cowl neckline adds something for less breasty girls and the shirred side enhances womanly curves.
Diane Von Furstenberg Dress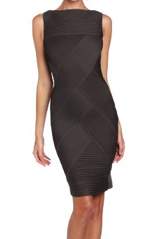 Splurge alert! Sorry couldn't help myself. This little number is pricey, but so yummy I felt you had to know about it. Slip the silk chiffon over your hips and poof -- instant fashionista. Perfect for your ex-boyfriend's wedding, high school reunion or anyplace you need to look devastating without trying too hard. The draped neckline adds a sensual touch and enhances your bustline, be it large or small.
Catherine Malandrino Dress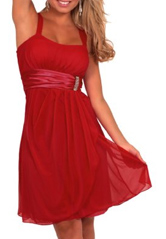 Empire waists are the solution for anyone who has a less than a loving relationship with her hips or abs. The faux wrap top and loose spaghetti straps draw the eyes upward toward your beautiful collarbone. Add some strappy black sandals and a pearl necklace to complete the look. Also comes in petite!
Sexy Empire Dress

Romance is in the air with this sweet cotton organdy dress. Sweetly innocent yet cut to highlight a thin waist -- this dress oozes pretty. Perfect for a daytime wedding, Sunday brunch or croquet party -- you'll be the best dressed. Accessorize with a Kir Royale and get ready for dreamy looks all around.
Daisy Dress
Enjoy your parties ladies! Try to be nice to those girls in boring dresses....you might even whisper "MiMaStyle.com" to the woman in the obviously recycled bridesmaid dress.
Love,
MiMa
Be the first to comment