Crop Your Pants
Capri pants are designed to be figure flattering and fun to wear. Capri pants for women are cutting edge fashion for active women on the go
Denim jacket, TJ Maxx. Cropped trousers, Moda International (cropped by me). Tank, NY & Co. Slingbacks, Wild Diva. Bag, Franco Sarto. Brooch, some department store.
These pants (and their twin, green-striped pair) were too short to wear with heels. I'm not sure if they were always too short or if they shrunk in the wash, but I became increasingly uncomfortable wearing them. Things came to a head when Angie, of You Look Fab, left me a comment pointing out they were about three inches too short for even my lowest heels. I contemplated my options. Because I rarely wear flats to work and would never sport pale, wide-leg pants without a heel, a change of footwear was not going to happen. Although the pants have a generous 2.5" hem, the edges are too worn to simply let it out. I nearly resigned myself to donating the trousers to the thrift store when I realized I could just make them shorter.
I consulted YLF posts on pants length, cropped trousers, and capris. Then, I donned my pants and experimented with different leg lengths by folding and pinning the excess fabric. I decided on a hem that hit at about the middle of my calf muscle. The result is roughly six inches shorter than the original trousers.
I haven't chopped the green pair yet. I'm going to wear the pink pants a few times to see how I like the length. I always fight the suspicion that cropped pants make me look squat. I wouldn't dare pair them with flats, but now I can wear them with my highest heels for a super long look.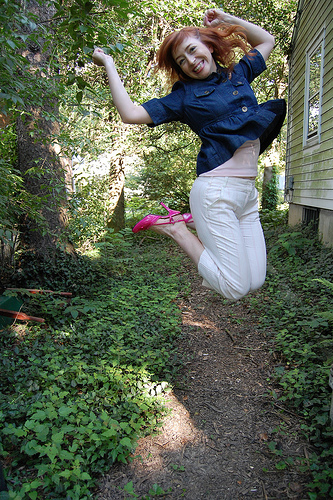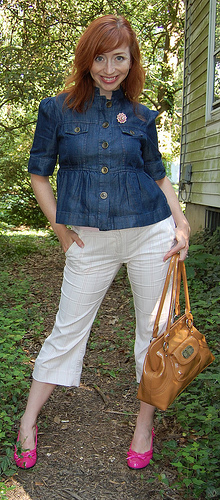 Be the first to comment