Le Tote Review
Your closet. Expanded.
Le Tote is a monthly fashion subscription that sends you a box of clothes and accessories for a monthly fee. Unlike other subscription boxes, Le Tote requires you send the items back when you're done, then they will send you new styles. It's great for adventurous spirits or just people who don't like to wear the same outfit more than once. A flat monthly fee gives you many different styles each month.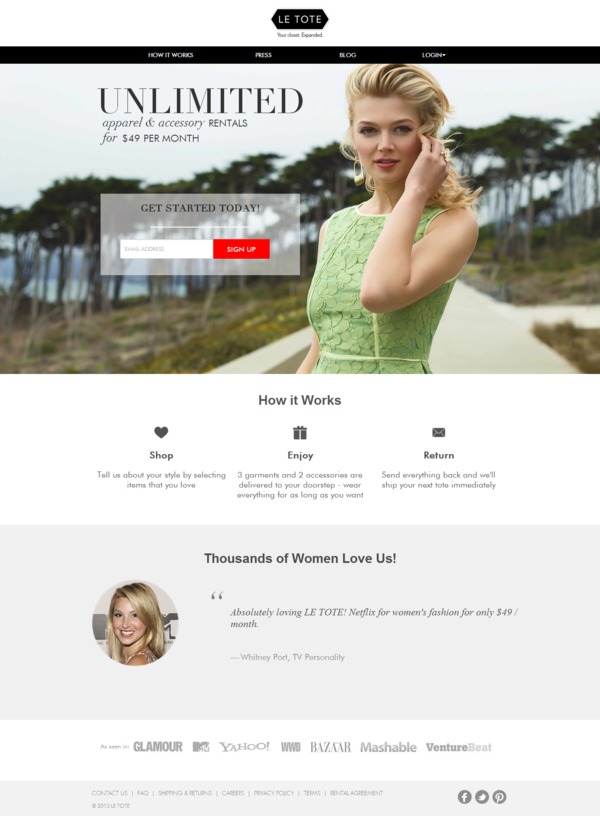 How does it work? Le Tote can be compared to services like Netflix. You'll fill out a style profile, and the stylists at Le Tote will send you a box with 3 articles of clothing and 2 accessories. You may keep the items for as long as you want, as long as you keep paying the subscription fee. If you really love something, you can buy it from Le Tote.
Once you send back what you don't want or are done with, Le Tote sends you new items. You don't even have to wash the clothes or pay for shipping.
However, unlike Netflix, you do not get to pick out what you're getting. Although you let them know your style preferences, you still may find an item or two in each box that doesn't quite jive with your fashion sense. Fortunately, Le Tote offers feedback options that allow you to let them know when they send you something you don't care for, allowing them to refine what they send you and get closer to things you'd choose for yourself.
Will the clothes fit? Le Tote works hard to ensure the garments they send have the proper fit. Your profile on their website gives them the information they need to get you the right size and styles of clothing. However, if you have issues with fit, just let them know and they'll make the right adjustments so you receive garments that work for you.
How's the quality? The clothing from Le Tote is pretty high quality and well made. While you're not getting incredibly expensive clothing, the quality is better than average department store clothing. You may find yourself falling in love and purchasing some of the garments Le Tote sends you!
What if I don't like something? Le Tote has and awesome feedback program that encourages you to send feedback if you're sent something you don't like. It's nice to be able to adjust your preferences more than
The Benefits: Le Tote allows you to experiment with clothes and accessories you may not have chosen on your own. You can easily wear what's in the box, without having to think about your outfit choices. Once you wear the clothes, send them back for something new. You don't even have to wash!
Who should consider Le Tote? Le Tote is good for fashion-adventurous people. If you hate doing laundry or worrying about what you're going to wear the next day, Le Tote could be a convenience well worth the subscription fee.
A Le Tote subscription can give you more outfits and variety in your clothing choices without cluttering the closet, giving you extra laundry or even requiring much thought on your part. Le Tote can be an easy way to freshen up your style without any shopping required!
People who may not like Le Tote: Because you're not able to choose your own outfit, there are certain types of people who may not care for the mystery in each Le Tote box. They do a good job choosing clothing that works with your personal style, but people who have very picky taste may have a difficult time enjoying a Le Tote subscription.
Be the first to comment