Accessories Really Do Make The Look
Clothes can be made trendy with a little adjustment and some accessories.
Hello new friends! I'm Erin from Hey, Reckless Mind and i'm so excited to be over here at messy closet today. i just recently found this blog over here and i was so happy to be asked to work on a post. Basically, i'm gonna show you all my go to accessories. Not too long ago, I never wore any accessories.
I was most definitely a minimalist and never even thought about putting effort into accessorizing. However, now that i'm rollin' in the blogger world, i want to wear all of the accessories that i can get my hands on. Unfortunately, i tend to go to the same accessories over and over. But hey, we just met, so you won't hold that against me, right? Ok, phew.
Honestly, my jewelry type accessories are kinda boring. Nothing really pops out, so i don't rely on that to add a whole lot of depth to my outfit.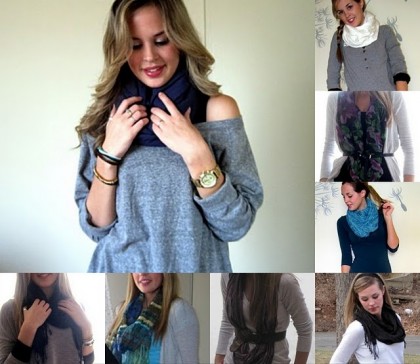 If i really feel like my outfit needs something, i'll grab a scarf. Scarves are such an easy effortless way to add pop to an outfit. you can change one look many different ways just with some scarves.
They come in all different sizes and materials which make the possibilities endless. And who doesn't love endless possibilities? it's like bottomless chips at Chili's, you just can't get enough.
Clearly, i can't get enough of scarves. every time i see one i like, i must convince myself not to buy it because i have about 20 million at home. Check out some of the ways i like to wear scarves with my outfits!
Accessories Make Outfits Better
To virtually every women style is everything. Some women are empowered with the power to mix and match the strongest and fashionable looks. At times we have days when we can't think clearly and will throw any outfit together.
With this gift, we can place an outfit together that blends with our personality. Most people think that the gear is only comprised of shirt, pants, and shoes - but there is much more to it. Accessories are essential to outfits. They aid to complete the look that we are working to express. With the perfect accessory, you will have the ability to transform a used gear and make an unusual and fun-loving outfit. it is a gorgeous transformation using only a few accessories.
Handbags, Sunglasses, Jewellery,Watches, Hairpieces, Scarf.
These are believed the most common accessories that we can utilise to complete the look of the outfit we are wearing. What you select to work with your outfit will be dependent on the look you are working to express. No company makes accessories better than Coach.
Coach is one of the leading names in the fashion world that has been assisting men and women since 1941. everything they make employs the highest quality textiles. if you desire to look the part of a thriving business woman you can wear Coach heels to compliment your skirt and blouse.
On your day off you will want to have a casual look that shows people you recognise how to have fun. Why not wear cute Capri, short sleeve shirt, and carry an adorable Coach patchwork handbag. This is one of the more casual types of bags that they make and will bring out the colours you need. Whatever accessory you pick out to utilise and whomever you decide to purchase it from ensuring that you select things that will work well with many outfits.
Different Accessories for Girls
Looking right is one of the leading concerns of kids and teenagers. As a young person, you just have to enjoy your time exploring and trying out new things. Creating your look and changing things up is exciting. Don't be too conscious when doing so. Just be confident in your skin and radiate your happiness to people around you. Stand out from the crowd by trying out these different accessories to spice up your outfits.
Bracelets
Most girls love charming and beautiful bracelet around their wrists. Choosing a stylish bracelet can go with almost any outfit. Try coordinating your bracelet with the material, construction, or colour of your gear, but don't try too hard. Bracelets go well with blue or black denim. Girls who want to achieve a bohemian look should go for colourful and chunky bracelets. For parties or other formal occasions, try to look for simple, delicate bracelets. Jewellery or accessories made of beads or shells can also complement any outfit.
Sunglasses
A fashion accessory that is always popular regardless of your age is a fresh pair of sunglasses. Other than giving you a specific stylish and elegant look, sunglasses also keep your eyes protected from harsh surroundings. Over-sized glasses are in nowadays. Look for some unusual shades and tints to be unique around everybody else who might be wearing them too. White frames are the most fashionable, though. They are the most frequently featured in favorite magazine editorials.
Necklaces
A necklace also adds elegance to any outfit. Girls with thin figures use accessories to create an illusion of weight. you can embellish a classic white top with a cute necklace. Long chained necklaces look great in everyday attire. Wear chokers, or close-fitting necklaces, with off-shoulder and V-neck tops. Long accessories paired with long skirts complement each other. Long beaded chains and stylish necklaces can add a little flavour to your already beautiful outfit.
Hats
Girls love sporting different types of hats. Think of the occasion and time of year when choosing the kind of hat to wear. Some go for the crazy and big hats for special events for showcasing hats. For regular get-togethers or if you just want to fight off the sunlight, choose toned down caps that match your outfit.
Bags and Belts
Bags and belts are reasonable needs of people, but for girls, they are more than that. That is why different types of bags and belts are used as fashion accessories. A stylish bag can help you carry around the things you need and make you look more sophisticated. A broad, funky belt looks good with a tunic. On an individual occasion like your birthday, a glittery belt can make you stand out.
Girls' hats, bags, shoes, clothes, and different accessories fill up their closets. Whatever style you want to project, do it with confidence. Nothing boosts an outfit better than someone who carries it with self-assurance.
Men's Accessories - How To Wear Accessories
One of the biggest fashion faux pas is accessorising incorrectly. The general rules are well-known but not very well understood or practised. it may seem evident that specific accessories do not go with others and so forth but doing it right is something entirely different. The way you wear accessories will determine the success of your outfit so here are a few tips on how to wear accessories.
The neckline is one of the first things one notices when looking at an outfit and you need to decide whether you are wan to accentuate it or leave it on the subtle side. How you wear accessories will determine the depth of the neckline as well. if you want to bring it out, then halter necks are the way to go. This brings out the bare shoulders and chest, and in this instance, it is best to leave the necklace out and instead go with a pair of big earrings. if this is too much skin for you, then around neck should work just fine. A long necklace wrapped twice or thrice around your neck will show just the right amount of skin with just the right amount of coverage. if a turtleneck is on the menu, then drop earrings, and a loosely hung necklace is a better combination.
Scarves are a favourite item that also gives an outfit its zest. Just wrapping a scarf around your neck is not enough, you need to wrap it around the right way for the kind of shirt you have on. A wrap at the top of the neck with the ends tucked in works well with V-necks whereas the same method with one or both ends dangling on the side or behind your shoulders is better suited for round necks.
Adding a scarf to your turtleneck is not always savvy, but if you must make then one wrap very loosely with one end to the front and the other to the back will do just fine. Just hanging the scarf around your neck with both ends to the front is even better. What you do not want to do is bulk the neck up, the point of the turtleneck is to keep your neck warm, and the scarf, in this case, is to decorate.
When you wear accessories such as belts, they draw attention to your waist or hip area so do it wisely. Tucking loose tops into thick banded belts is in but make sure you hang the belt low and leave just under 10cm of the head at attaching the bottom. Long and loosely hanging belts that are well decorated already draw attention so wearing it with simple jeans will do justice to the outfit. The waist belt with relatively well-fitting collared shirts or cardigans is an excellent lady-like look for this day.
Be the first to comment