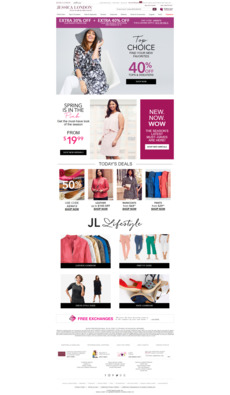 Our collections include
Everything from refined essentials like timeless tunics and quality denim to polished suiting, dresses and the best assortment of outerwear and leather in sizes 12 and up. We offer lingerie and bras up to size 54G and an amazing array of shoes and boots in wide widths and wide calf options. Add on our must-have accessories, and any outfit you can imagine, from the foundation to the finishing touches, we have the pieces for you.
Our commitment to designing high quality, great-fitting clothes for women in sizes 12 and up goes back over 20 years when the first Jessica London catalog was mailed in 1997 to serve the needs of stylish, professional working women by offering them a better selection than any department store. The goal was then, and is now, to give women the style choices they deserve in fits they can always count on to make them look their best.
For more than two decades, we have evolved our designs, fabrics, colors and print offerings to fulfill the needs of real women as they thrive and take on everything that life brings. We offer outfit inspiration and style ideas at everyday values so our customers can easily put together effortless outfits that express their personal style.
At Jessica London we think style is all about you. Knowing who you are and what works for you. We get it. Monday through Sunday, you're putting great outfits together, and we're here to help you do it. When your clothing fits you well, flatters your best assets, and expresses your personal style, that's when your confidence shines through, and confidence is always in style.
uncaring customer service
Ordered a winter coat in Nov. Returned it early Dec.--wrong size.Still waiting, March starts tomorrow. No help from customer service.
---
Shipping is insane, even when I returned everything
I used to order from Jessica London a few years ago, and I have gotten some decent clothes from them. However, this time, they charged a total of $21.49 shipping and handling for an order where nothing fit, and I had to return it all. Usually places charge shipping up front, and $13.99 was pretty high, but I could live with it. But what I didn't know is that when I returned everything because nothing fit, they charged an extra $7.50 for the return. It was obnoxious, and when I called customer service they wouldn't do anything to make it better. Also, the shoes are all man made, so the prices are not even very good.
---
So Far, So Good -- with One Caveat
I've ordered from them before -- not extensively, but enough to get a feel for it. The rain coat that I ordered was a decent quality item, although a little bigger than expected, & the buttons are coming loose after less than 10-12 wearings. The flat shoes looked lovely, but ran a little small, so shoe stretchers were needed. Today I ordered 2 tops; the catalog price for one was different from the price on the website, and then initially different on the phone when I called to check it out. Shipping seemed a little steep for 2 lightweight tops. We'll see how the tops wear