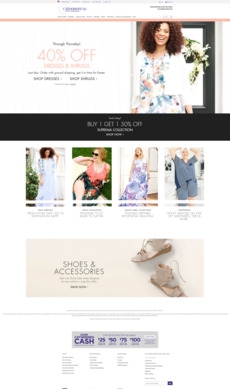 Turns out, Catherine Weaver was on to something.
Today with nearly 400 locations nationwide, along with catherines.com, the Catherines brand continues to fulfill its promise to women everywhere as the fashion and fit authority for sizes 16W-34W and 0X-5X. As part of the Ascena Retail Group family of stores, Catherines serves a unique niche in the marketplace, offering beautiful fashions and intimates in hard-to-find extended sizes and a proprietary fit customers love.
But Catherines is far more than just a place to shop. Embracing the same sense of community on which it was founded, Catherines seeks to engage, connect, inform and inspire the women we serve, and deliver on an extraordinary brand promise, "We Fit You Beautifully."
Long before it became fashionable to cater to full-figured women, an enterprising woman named Catherine Weaver opened a small clothing boutique in Memphis. The year was 1960. As a plus-size woman herself, Catherine hoped to bring style, beauty and confidence to a like-minded clientele whose fashion choices were decidedly limited.
Horrible website performance and rotten design
I attempt to shop Catherine's using Safari on my smartphone. The site hangs, freezes, then reloads. I use Safari on my smartphone and do not have this issue with any other site except for Catherine's and Lane Bryant. Despite numerous complaints from me, they haven't corrected this horrible issue. And, on the rare occasion I am able to click on an item, you have to click on an item, then use a drop down box to see if it's available in your size. That's stupid. Why not have the sizes in tiles as well as the colors? That way you can click on either a size or a color and see if it's available without wasting time.
Most of the time I just give up and use Avenue instead. The quality isn't as good but their site actually works and it's laid out in a user-friendly format
---
So thrilled!!!
I was so happy to see that Catherines came out with black and Jean colored knit Jean pull-ons with working pockets in the front and the back last year!!!! I ordered 4 pairs!!! Then I found the same colors and style in capris a week ago and ordered another 4 pair!!! So thrilled!!! Keep it up!!! Would be even better if more colors would be available!!! Yippee!! I cannot find these anywhere else!!!
---
Positive Experience
I have found their site to be easy to navigate. I found having the live chat to ask questions to be very helpful. I feel the clothes are of a very good quality. I love being able to pick the order up at the store. You may also make your returns at the store's so you don't have to pay any return fees.