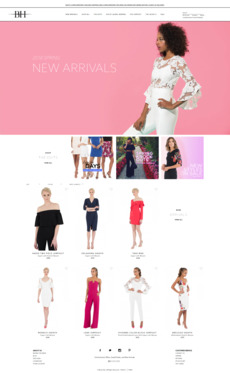 Black Halo
Buying online is one of the easiest ways to acquire most of the things you need, and in the case of buying clothes is one of the best ways without having to move from home and that is why Black Halo is an of the best pages on the internet, mainly because of its image because it is quite fresh and new, when we enter we can find the beginning that shows the best clothes and best sellers so that customers can have access to the purchase with lots of more easily.
To start shopping on this page all you need is to subscribe and provide our personal information, and a credit card to make payments, at the time of making the purchase is very simple because you only need to select the product and in seconds we will have images of the garment of different angles, in addition you can also see all the sizes in which it is available, the colors, and in addition to the material in which it is made and likewise you can also see the measurements in the case to be a pair of trousers or any other type of garments.
This particular page sells clothing only for women and all styles, from dresses to jumpsuit of the colors and models that are most desired, and another great thing is that if we like something and at this time we cannot buy it we can place it in favorites so that we do not get lost over time between the number of products they have. Likewise, within the page, we can have direct access to social networks to be closer to the page and technical support for any type of problem.
Black Halo is designed to summon natural inner beauty and confidence that is both liberating and empowering to women when worn.
Beautiful dress
I ordered this for a funeral but I know I will be able to wear it on many other occasions. Definitely has a day to night aspect with the adjustable zipper slit (it goes pretty high for a sexy date night/night out look). Flattering fit. I'm a 4 and the 4 fit like a glove. 5'9", 125 lbs, 32C. The only reason it's not 5 stars is that there were a few loose threads hanging down that I had to trim prior to wearing. I styled it with the Kate Spade Classic Sparkly Bow Belt which ended up not being too sparkly (more of a shine than a sparkle) which was appropriate for the somber occasion. Sizing: True to Size / As Expected
---
Perfect
I bought this in the white and it looked absolutely PERFECT! I love this jumpsuit and am considering buying it in black! Sizing: True to Size / As Expected
---
cute dress
I really liked this dress. I normally wear a size 2 or 4 and got a 2 in this. It is really snug and has a little less stretch than I anticipated but I love it. It fits good and the print is great. Sizing: True to Size / As Expected