Review of Cocktail Dresses & Sexy Dresses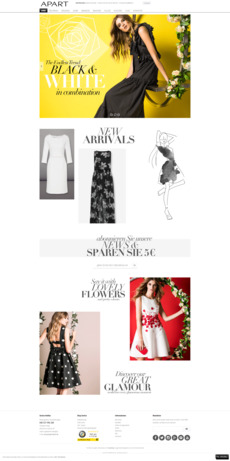 ApartStyle.com offers
Trendy maxi skirts, Skinny jeans, Contemporary cocktail, casual, and career dresses, Basic trousers, knitwear, and tailored jackets, "Celebrity Style" section, where you can find pieces your favorite celebs are wearing
Apart provides a new one-stop source for women who love contemporary fashion, trends and styling their own looks, but still need to dress for their everyday lives.
Their customer service can be reached monday thru friday 9am to 5pm EST at 1-877-263-4443.
A summation of hand selected designer collections, APARTSTYLE is a one-stop style destination for the modern woman of today. Since its stateside debut in 2010, APARTSTYLE has expanded into a style-conscious state-of-mind that is synonymous with accessible luxury and contemporary fashion.