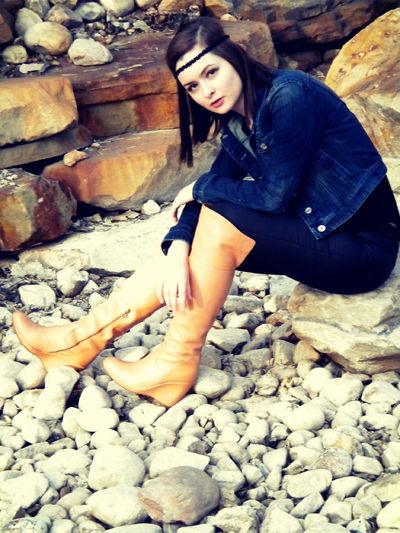 What I Wore
in February 2018 (Winter Season Clothing)
| | | | | | | |
| --- | --- | --- | --- | --- | --- | --- |
| Sun | Mon | Tue | Wed | Thur | Fri | Sat |
| | | | | 1 | 2 | 3 |
| 4 | 5 | 6 | 7 | 8 | 9 | 10 |
| 11 | 12 | 13 | 14 | 15 | 16 | 17 |
| 18 | 19 | 20 | 21 | 22 | 23 | 24 |
| 25 | 26 | 27 | 28 | | | |
What is the outfit calendar? Easily track your style inspirations: Plan what to wear and search what you last wore by event or outfit using the clothing journal. The outfit calendar helps you see what's been worn so you won't wear the same outfit frequently.
About My Style
My style is very unique, I like to take inspiration from what I see other people wearing and use that to create new looks for myself. As someone with short legs, I LOVE putting outfits together that create the illusion that my legs are longer than they actually are. I feel that that's what having good style is all about--dressing your body to it's full potential.
My favorite brands/stores are...H&M and Forever 21. I also love Marshalls and Target. I love that the clothes are super trendy and don't lighten my wallet too much. However, what I love the most is going into thrift/vintage stores and finding gorgeous vintage clothing.
But you'll never see me wearing...You'll never see me wearing extremely revealing clothing, I think that wearing a little more clothing can really add class to your look. You'll also never see me wearing skulls, I'm too much of a girly-girl for that.
Interesting fashion & style facts about Michelle

Michelle Wohlgemuth Style Facts


Body Stats : Height, Weight, Size, etc.

Look of the Day

as of Nov 18th

Outfit Style

I love the lines in this outfit. I love the headband across my forehead because it gives the outfit that horizontal line and then I love the horizontal and vertical lines across the pants. I love how the lines bring the outfit together without it being too obvious. I added some really dark make-up just to give the look some real impact.

Occasion Wear

I didn't wear this outfit anywhere special, I was just hanging out with my best friend and we decided to go take some fun pictures!

additional photos →

Outfit Style

I love black dresses. So much. I wanted to look professional, so I added a blazer. I wanted to keep my colors muted, so that I could put this red purse with the outfit and have it really stand out. I also wanted to add some fun, so I threw on these white polka dotted tights.

additional photos →

Outfit Style

This skirt is great. It's so flattering. I love that it's high-waisted and goes a little past the knee. The pattern is great, the snakeskin look gives it great texture. I paired it with a dark rose-pink shirt for a nice contrast and added some royal blue shoes to offset the pink shirt. I added the very simple nude handbag, so as to not take away from the rest of the outfit.

additional photos →

Outfit Style

I love rompers. I love how simple they can be. I love the skinny black belt with this romper to break up the romper and give me a waist. I added the striped messenger bag to add a pattern. I also added strappy sandals to keep the romper pretty casual.

Occasion Wear

I wore this outfit for a day out in Washington D.C. going to a museum and then out to dinner with friends.

additional photos →

Occasion Wear

I wore this outfit to church. I teach a Sunday school class of three year olds and it gets pretty crazy. That being said, I always wear the wrong outfit for it. Haha. I can hardly run after little kids in 5 inch heels, but of course, I do it anyway. I love this dress. Everything about it is great, it's flattering and I love the two colors. I added the nude bag and nude heels to keep the focus on the dress.

additional photos →