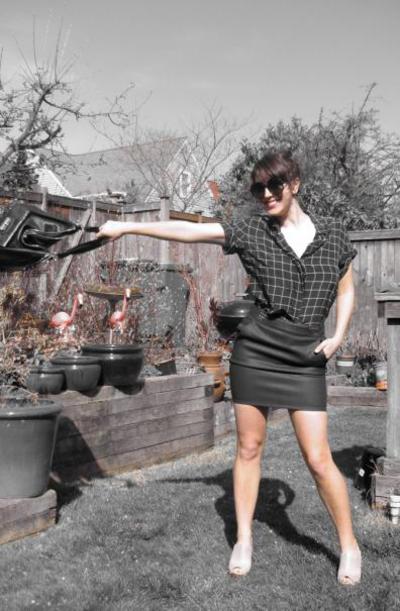 What I Wore
in February 2018 (Winter Season Clothing)
| | | | | | | |
| --- | --- | --- | --- | --- | --- | --- |
| Sun | Mon | Tue | Wed | Thur | Fri | Sat |
| | | | | 1 | 2 | 3 |
| 4 | 5 | 6 | 7 | 8 | 9 | 10 |
| 11 | 12 | 13 | 14 | 15 | 16 | 17 |
| 18 | 19 | 20 | 21 | 22 | 23 | 24 |
| 25 | 26 | 27 | 28 | | | |
What is the outfit calendar? Easily track your style inspirations: Plan what to wear and search what you last wore by event or outfit using the clothing journal. The outfit calendar helps you see what's been worn so you won't wear the same outfit frequently.
About My Style
I am a personal stylist, wardrobe consultant, blogger and magazine editor in New York. This site is dedicated to all things style and the many forms it comes in. I hope you enjoy reading my blog as much as I enjoy writing it. And, if you are interested in my styling services or just want to say hi, please, contact away!

I work as a stylist and wardrobe consultant in Manhattan, and am available to help you on a one-on-one basis with your closet and style consulting needs. My clients run the gamut of students to young professionals to new moms, and beyond! My goal is to offer you helpful tips and tricks that will continually inspire you to look within your own closet, all at an affordable price-maximizing both your wardrobe and wallet-to create stylish outfits with items you already have, making you a more confident dresser.
Interesting fashion & style facts about Christine

Christine Cameron Style Facts


Body Stats : Height, Weight, Size, etc.

Website

| | |
| --- | --- |
| Fashionista | The fashion facts label (also known as the style facts information panel) is a label shown with quick facts about Christine's fashion insights. |

Look of the Day

as of Apr 4th

Outfit Style

Happy rainy Friday! So, a fun little teaser..as you can see, I am sporting my curly hair, which is a rarity on the blog, but expect a super fun post all about it next week. More to come on that soon! Anyway, I am spending the day with one of my best friends, Lex, is who currently 6 1/2 months pregnant, (!!!) at her lovely home in Carroll Gardens.

Occasion Wear

We grabbed lunch, coffee (for me) and a cookie at Naider's, which is a lovely little cafe with yummy food. This weekend I plan on laying low, spending time inside watching movies and being lazy. What are you up to this rainy weekend? xoxo

additional photos →

Occasion Wear

Sunday evening was spent with family celebrating my Dad's Birthday, and was complete with yummy red wine, tasty food and delicious chocolate cake. For dinner I wanted to wear something simple but still put together-understated elegance so to speak-so I opted for my new Natori lace top, then added my tuxedo blazer, tan trench and my favorite pair of jeans from Target. To give the look a few extra special details, I styled my hair in a pretty chignon, and added some bright cherry-colored lipstick for a pop of color. HAPPY BIRTHDAY (again) DAD!

additional photos →

Outfit Style

As promised, here is one of the lovely goodies-an awesome black denim pencil skirt-that showed up on my doorstep yesterday! It was actually warm enough to wear this outfit without a jacket or tights. Hurrah for springy weather! xoxo

additional photos →

Outfit Style

So, seeing that I packed only a few pairs of shoes this trip, I didn't have a huge selection to choose from. But, I found that the clogs worked out nicely with the 60s/70s vibe I had going on. I felt like I should be hosting a backyard garden party, complete with cocktails, pigs in a blanket, a swimming pool, and of course the two pink flamingos you see in the background

Occasion Wear

Yesterday, despite a very rainy Seattle, I spent the morning with my Aunt down at Pike Place Market. We caught up over croissants and coffee, before I met up with my good friend Nicole, to do some downtown shopping. We eventually headed over to U-Village for lunch and more shopping, which is when I scored this dress at H&M for a whopping $20. I was thrilled, to say the least, at the gentle price tag but mostly with how when I swirled around in the dressing room, I felt like I was a living watercolor painting. Both my Aunt and Grandmother (on my Dad's side) are talented artists, but my Grandmother mostly paints beautiful watercolors. This dress definitely reminds me of the many hand painted cards I have received from her over the years.

additional photos →

Outfit Style

I decided to brave it by wearing shorts. I haven't worn shorts without tights in forever, and it felt very liberating to say the least. I found this awesome Ann Taylor shirt at the Goodwill in Ballard for $5 and first wore it, here. But, this time around, I wanted to mix it up a bit and try for a more casual look with shorts and boots. But, I would love to know, which look is your favorite? Hope you're all having a lovely Friday! xoxo

Occasion Wear

my friend Anne's Birthda

additional photos →