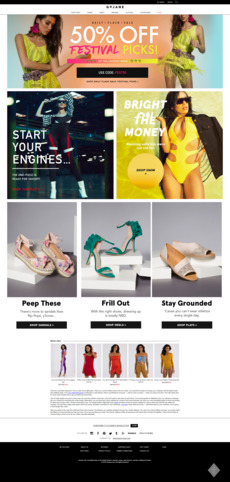 Go Jane
With just a few clicks we can have the best purchase of all in the blink of an eye, the first thing we have to do is go to the content bar that is at the top and there we will see each and every product category, we select the one we want and that's when we can see all of that category, then we choose the product we want and we can include it in our bag and continue buying without problems and then go back to making the purchase, and if we cannot add them to favorites so they do not get lost.
 In the case of offers is another of the things that we can see and on this page there are different very cool offers that can reach up to 40% discount, which will always make us much more interested in all kinds of products, as well the page itself is quite interactive and gives us a very good comfort in addition to a fairly large number of products in terms of elements for women, from shoes, sunglasses and of course dresses is one of the essential items.
 In addition, this page has the particularity that can show reviews of the products so that you can see what other people think about the product and when making the payment, you can choose between different color options, size and everything in just a few clicks to have an excellent product.
When your current clothes seem a bit out of style, GoJane.com has the hot styles to revamp your wardrobe with the latest trends and celebrity styles. From sexy thigh-high boots to bodysuits to cute dresses, there's something for everyone and for every occasion when you shop at GoJane. And with winter here, it's never been a better time to get yourself some fresh looks.Incredible deals on the hottest trends in women's shoes, formal dresses, and teen clothing at GoJane. Check out our current Free Shipping offer!
Happy
I saw these shoes online at Target and I fell in love with them however when I went back to purchase them they were sold out. So I found them on Postmark and they were cheaper! So happy I ordered. Delivery was fast and the shoes still had the tag.
---
Love my pumps
Amazing quality and price with quick shipping. I cant wait to wear these pumps this summer!! I would encourage others to shop here as well
---
I love this site!
I ordered 5 shoes recently and they came PERFECT. Size, color, quality, sturdiness, etc., were/are all amazing! I'm a happy shopper of Go Janes.
---
Never disappoints
I have never had a bad experience when shopping Go Jane. I love love love this site! I never have to worry about seeing someone else wearing anything Ive ever ordered which is always a plus