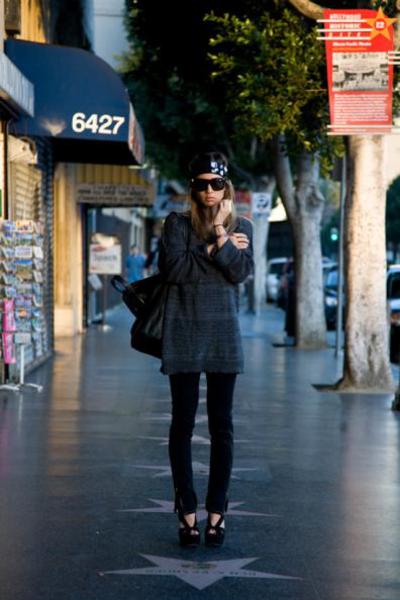 What I Wore
in February 2018 (Winter Season Clothing)
| | | | | | | |
| --- | --- | --- | --- | --- | --- | --- |
| Sun | Mon | Tue | Wed | Thur | Fri | Sat |
| | | | | 1 | 2 | 3 |
| 4 | 5 | 6 | 7 | 8 | 9 | 10 |
| 11 | 12 | 13 | 14 | 15 | 16 | 17 |
| 18 | 19 | 20 | 21 | 22 | 23 | 24 |
| 25 | 26 | 27 | 28 | | | |
What is the outfit calendar? Easily track your style inspirations: Plan what to wear and search what you last wore by event or outfit using the clothing journal. The outfit calendar helps you see what's been worn so you won't wear the same outfit frequently.
About My Style
I think one thing that is quite clear about my style is that I will literally shop anywhere from a Mexican marketplace to a pawnshop. This creates a wardrobe that's essentially a mash-up of high/low, with a good amount of vintage thrown in there too. I'm definitely influenced by California's beachy, casual style and never like to look too "done". I'll redirect the effect of an embellished dress with some beaten up boots or wear the prettiest floral dress with a jacket that looks like I stole it from an overly grungy male. When I'm at a loss for ideas, I'll usually end up in simple basics like an 80s bandage skirt or loose t-shirt dress with some almost-ugly insanely high heels (not stilettos though, need to be at least partially mobile). Little flashes of obnoxious neon are good too, and I love to take something awful like a men's collarless denim shirt and try to make it work.
My favorite brands/stores are...Right now I am feverishly obsessing over everything Balmain, Isabel Marant, and Givenchy. I waver between a mussed-up bohemian thing and a zipper, strap, and fringe-heavy harder look and these designers serve those purposes pretty much perfectly. Every time I see a photo of those Balmain heeled moccasin boots I die a little thinking about how I'll never own them. Other loves include Balenciaga, Olivier Theyskens, Alexander Wang, and I'm in the process of figuring out how to obtain Australian designer Rich's leather fringe dress. And Ruthie Davis makes the best Lucite detail heels that could make bring the most drab of ensembles to life immediately.
Interesting fashion & style facts about Rumi

Rumi Neely Style Facts


Body Stats : Height, Weight, Size, etc.

Website

| | |
| --- | --- |
| Wardrobe Inspired By | Street style blogs are a huge inspiration |

| | |
| --- | --- |
| Do I see fashion in my career? | My ideal job would be styling |

| | |
| --- | --- |
| What camera do I use? | Canon 5Ds |

| | |
| --- | --- |
| Clothing size | small/medium |

| | |
| --- | --- |
| Fashionista | The fashion facts label (also known as the style facts information panel) is a label shown with quick facts about Rumi's fashion insights. |

You can also find me on...

Look of the Day

as of Apr 13th

additional photos →

Outfit Style

I've been dressing more for warmth and comfort for nights out (the usual trashy crap with functional jacket and tights...not really that different I guess)..so it's more fun to save the naked dresses for trips to whatever field is closest to the freeway. I mean adding outerwear would defeat the purpose here right? I had no idea this dress would cut across the body so crazily when I held it up for the first time in my living room (actually I had no idea what to make of it in general) so that was a err fun surprise when I pulled it on in the car. Somewhere along the way I stopped trying clothes on properly..that's probably not for the best but sometimes planning ruins everything. A lot of my favorite outfits have been the result of putting together whatever's in my backseat. Is that just me?

I've gotten a lot of emails about these shoes..I think they've been re-released? I'm not sure but that's what someone said. Right now Kumo is nestled up against them. They're very popular apparently. For the record, they're really comfortable and run true to size.

additional photos →

Outfit Style

This flannel shirt is at the top of my list for comfort..there was a semi-depressing phase recently when I wore it for three days straight, including to sleep. Hmm yes well maybe more than semi.

additional photos →

Occasion Wear

Last month the W San Diego sent along an invite to stay a night and see the Gossip play..the whole champagne and strawberry treatment..literally. It's always somewhat of a surprise to have anything blog-related happen in San Diego since this city counts fashion pretty low on its list of priorities, which is actually kind of nice sometimes to be honest.

additional photos →

Outfit Style

This dress is one of my favorite pieces in my closet - the layers of jersey and silk somehow go perfectly with both motorcycle boots and the highest heels. I got it in New Zealand (seriously this is unintentionally becoming a catch phrase here) at Black Box, one of the only boutiques I've ever been in where I've wanted most everything.

Occasion Wear

Sometimes the most awkward situations come from taking photographs in random places..some drunk guy came up to inspect what we were doing and proceeded to offer up his dog as a prop. Declined. But the dog was pretty cute.

additional photos →