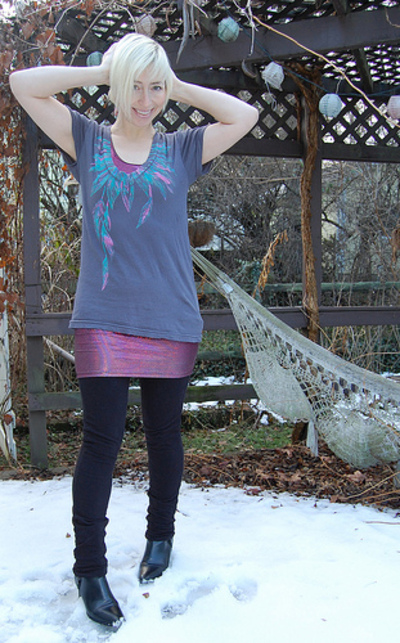 What I Wore
in February 2018 (Winter Season Clothing)
| | | | | | | |
| --- | --- | --- | --- | --- | --- | --- |
| Sun | Mon | Tue | Wed | Thur | Fri | Sat |
| | | | | 1 | 2 | 3 |
| 4 | 5 | 6 | 7 | 8 | 9 | 10 |
| 11 | 12 | 13 | 14 | 15 | 16 | 17 |
| 18 | 19 | 20 | 21 | 22 | 23 | 24 |
| 25 | 26 | 27 | 28 | | | |
What is the outfit calendar? Easily track your style inspirations: Plan what to wear and search what you last wore by event or outfit using the clothing journal. The outfit calendar helps you see what's been worn so you won't wear the same outfit frequently.
My Style Advice Topics
Photograph Your Outfits
fashion/how-to-take-lookbook-photos/802/
Digitally archive your daily looks: Tips for Taking Your Own Outfit Photos...
Layer for Fashion
fashion/style-your-outfit-with-layers/800/
How to layer clothing...ways to combine your favorite pieces and wear something comfortable and flexible, while showcasing your sense of style...
Deal With Excess Belt Length
fashion/excess-belt-length/799/
How to Style a Too-Long Belt...
Crop Your Pants
fashion/making-capris-from-pants/798/
Capri pants are designed to be figure flattering and fun to wear. Capri pants for women are cutting edge fashion for active women on the go...
Bundle for a Cold Commute
fashion/bundling-up-for-a-cold-commute/797/
Wonder how people cope with commutes in cold weather? Preparing for long commutes in cold weather can be warm and stylish...
Add More Color to Your Wardrobe
fashion/easy-ways-to-add-color-to-your-wardrobe/796/
If your wardrobe is mostly black, there is still ways to add color without breaking the bank and investing in a whole new wardrobe...
Make a Cardigan Clip
fashion/how-to-make-cardigan-clips/795/
Sweater guards have two clip-style decorative pieces on either end connected by chain or a length of beads that you can clip to your sweater to hold it over your shoulders...
About My Style
A bona-fide cat lady, homebody, wanna-be writer, and faux extrovert. If I'm not gardening, I'm rehearsing for a local theater production...
Interesting fashion & style facts about Kasmira

Look of the Day

as of Apr 1st

Outfit Style

The forecast called for rain, so I wore galoshes all day. It didn't rain until 9 p.m., but I didn't mind. I love clomping around in these boots.

additional photos →

Occasion Wear

I enjoy getting comments from Cincinnatians who recognize my photo locations. Can you tell where I am today?

additional photos →
additional photos →
additional photos →

Outfit Style

I wore my finest Festivus finery this evening. I'm entirely unsure as to what constitutes appropriate Festivus apparel, so I took the opportunity to wear whatever the hell I wanted.

I was ready for feats of strength but settled for an airing of grievan

additional photos →